Online Marketing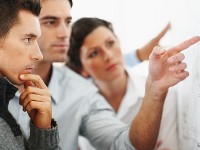 Measure, analyze, optimize, sell
We bring your range of products and services to the relevant target audience by aligning the content of your web presence with Internet metrics. We incorporate our experience with digital online marketing and conventional advertising to produce and implement individual marketing plans for the web across all channels.

Sounds complicated? It is! Online marketing is unique in the number of factors you need to consider. Web analytics, social media monitoring, benchmarking websites and shop systems and planning ad placements – Internet marketing is and will remain a work in progress. As so many aspects intersect in online marketing, we're active in every dimension.
HEAVY CAMPAIGNS online marketing services:
Analyzing websites, e-commerce online shops and web services
Competition analyses and competitor/market comparisons
Social media monitoring and social media benchmarking
Online marketing plans and concepts
Search engine advertising (SEA, Google AdWords, Facebook Ads)
Performance marketing and performance monitoring
We create insightful analyses and reports for our clients on the performance of websites and online offerings. We are able to compare your offering against your competitors and the market/sector. In terms of social media benchmarking, we offer monitoring and authoring for your brand or your company.
Try our digital marketing services and enjoy the fruits of our know-how.